Would You Pay £200m For A Bible?
By Fin Sheridan
I have rejoiced in the way of Your testimonies, as much as in all riches. Psalm 119:14
The law of Your mouth is better to me than thousands of gold and silver pieces. Psalm 119:72
Therefore I love Your commandments above gold, yes, above fine gold. Psalm 119:127
Last week was a expensive one in the world of football. Brazilian striker, Neymar transferred from FC Barcelona to PSG, in France for a record breaking £200 million. Breaking all transfer records within the football world, the Neymar deal sent ripples through the sports world.
In terms of personal earnings, the numbers are mind-boggling. He'll earn £2.3million per month which, when you break that down, gives him a daily salary of £76,738.57 – that's over £50 per minute!
This video from the BBC breaks down some of the the other things that you could buy for the price of the superstar forward, but it's hard to digest. Over 800 houses in the UK – with some change! The only way that a number like £200m becomes comprehensible is by comparison – like the infographic below.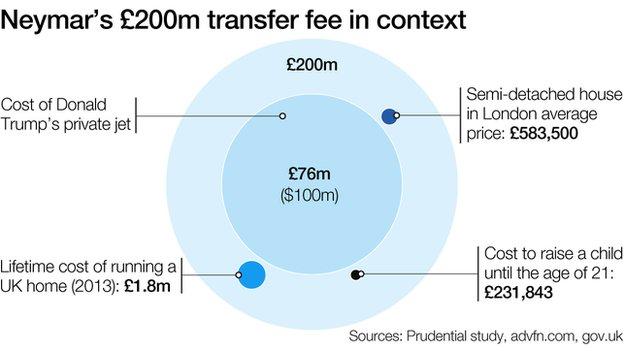 And now to Psalm 119. Most likely written by David, there is only one theme in this Psalm – the superiority of the word of God compared to, well, everything. The Psalmist poetically celebrates how the promises, commandments, and direction of God's word lead through and to life.
Three times he glorifies God's word over the benefits of riches, gold and money. Just like the comparisons needed to help us get our heads around the size of Neymar's transfer deal, we can then use Neymar's situation to fully meditate on these verses.
For example, Psalm 119:127 – "I love your commandments above fine gold" comes to life when we reflect on it this way "I'd turn down £200m because I prefer your words, your life, your ways." Wait, wait, wait. Really?! Would I? Would you?
How often does a love of money – or the fear of not having it – limit our faith, our generosity and our giving? Do I really believe and agree with the psalmist or do I actually love fine gold more than his commandments? The Psalms are not a book of coffee-cup verses or inspirational thoughts. It's real people, living real lives, and processing their real walk with God. This Psalm challenges me – and should challenge us – to evaluate what matters most and what is most worth pursuing.